Zumex Multifruit Juicer
She's Intelligent, Intuitive, Safe, Efficient, Functional, Sophisticated, Elegant And Sexy-Producing The Best Quality And Highest Yield Juices On The Market!
What else would you expect from the worlds most technologically advanced commercial grade centrifugal juicer?
FEATURES
A Standby Switch And A Unique 2 Position Speed Selector For Soft Fruit or Hard Vegetables. Which means that there's maximum extraction of juice without all the lumpy pulp. The rate of revolutions is automatically adapted to suit the exact type of ingredients being used. This feature is unique to all other commercial centrifugal juicers on the market and is one of the many features that sets the Zumex apart from all the others. The standby switch also means that energy can be saved when the juicer is not in use.
Silent Block System And Anti Vibration. The juicer operates at a noise level lower than 70db's which means that customers and staff won't be blocking their ears as if an ear piercing chainsaw is being revved up in the kitchen.
Broad 75mm Inlet Mouth. Which means that in a busy commercial environment where juice is needed fast and on demand there won't be the hassle of having to waste excessive staff and customer waiting time while fruits and vegetables are cut into tiny little pieces. Who likes waiting around forever for something to drink?
A Non-Drip Faucet And Removable Drip Tray. Which means that after a busy days work there doesn't have to be a flowing river of juice covering the work area and floor, that can cause health and safety hazards.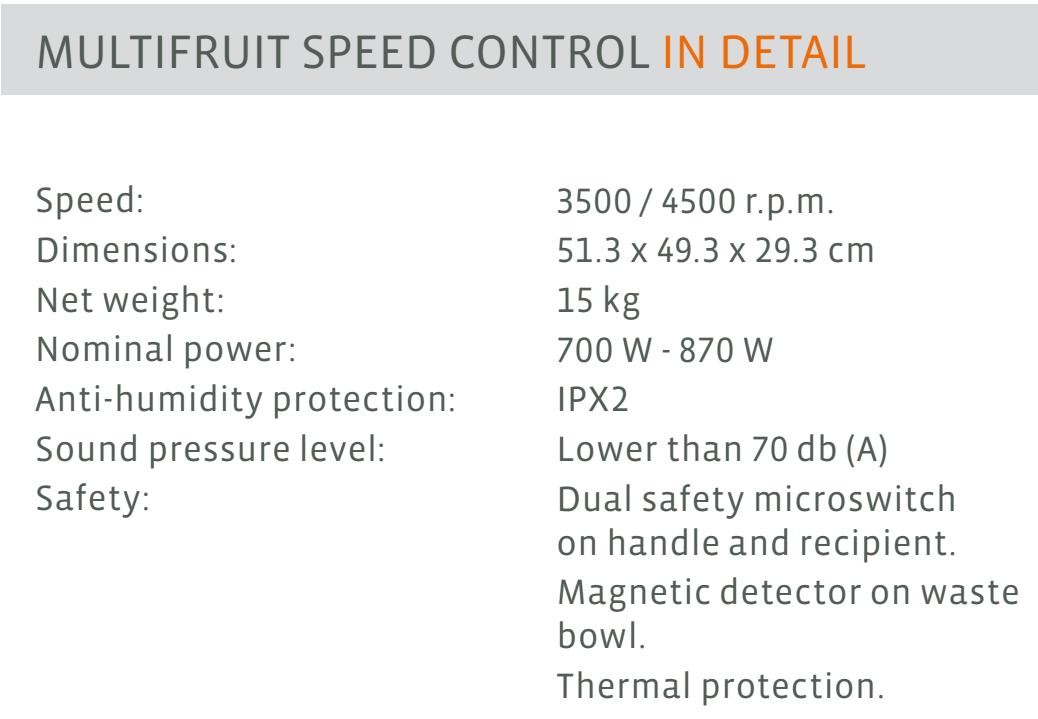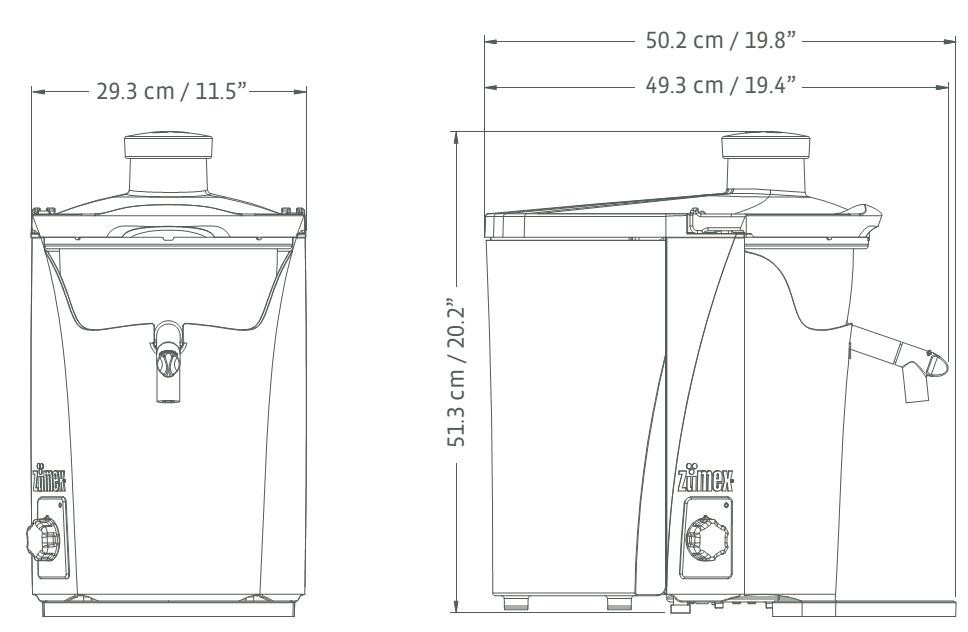 Sale
Semak Vita Juice Pro Light Commercial Juicer Extractor
The Ultimate Solution To Your Business Juicing Needs
The Semak VitaJuice Pro is a quality, high performance light commercial centrifugal juicer, full of innovative and user friendly features, without the big price tag. Designed to extract as much juice and nutrients as possible from fruits and vegetables makes it ideal for juice bars, cafes, restaurants and health eating outlets where quality juice is wanted on demand, without the long waiting times.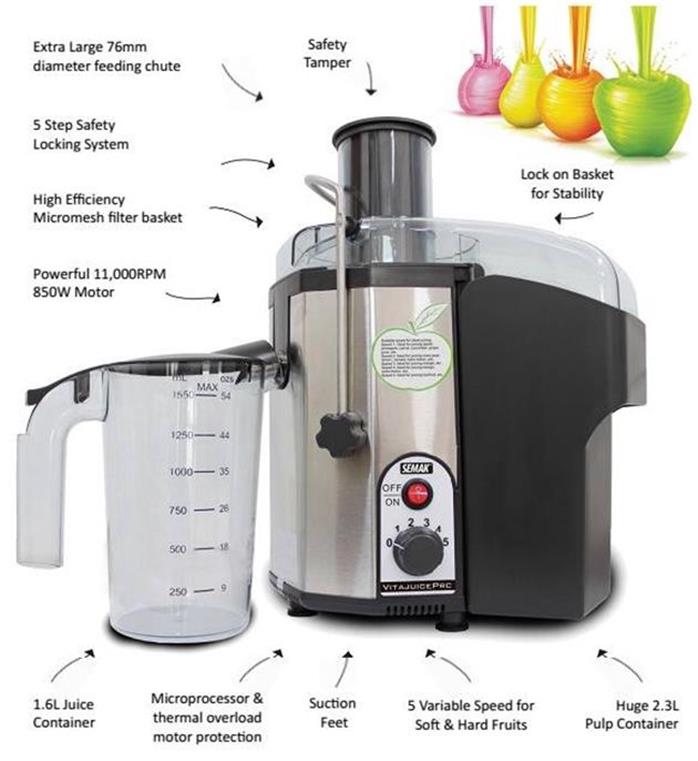 With a heavy duty 850W commercial motor, a 76mm hopper, an ultra efficient micro-mesh filter and 12 month commercial warranty, the Vita Juice Pro reflects the Semak manufacturing philosophy: "to build and manufacture quality equipment that is built to last, repairable and supported by spare parts." Which means you can purchase the Vita Juice Pro with the added reassurance of getting a reliable and durable juicer with the support of Semak Australia, who have 65 solid years of manufacturing quality appliances.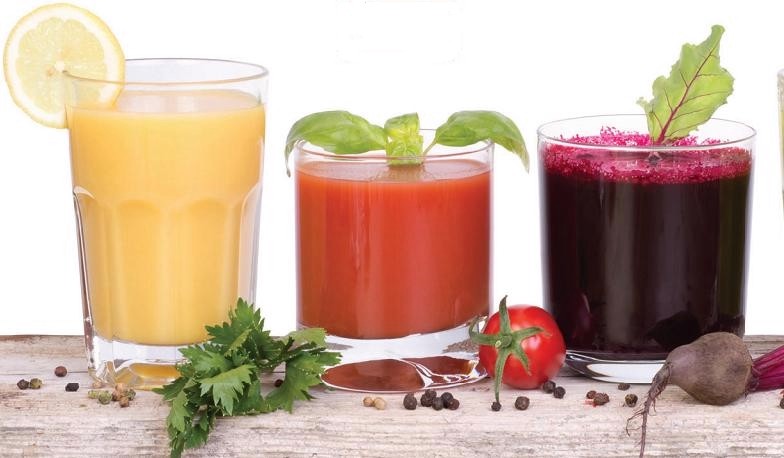 The Vita Juice Pro Unique Features
The Intelligent Motor Control (IMC) feature incorporates a microprocessor that matches the motor's torque to load balance. Which means your not only getting higher energy and task efficiency, but also the added benefit of advanced motor protection from overheating. The Vita Juice Pro is actually built to last unlike many of the similar styled juicers available on the market, that promise much, but quickly disappoint with under performance or end up with parts and motor issues.
A Powerful 11,000RPM 850KW Motor. Which means you're getting a heavy duty commercial motor that offers the power to spin dry the maximum yield from all fruits and vegetables. So whether its watermelon or carrots you will get an abundant, high quality juice yield. More juice less waste.
Extra Large 76mm Diameter Feeding Chute. Which means that in a busy commercial catering environment unnecessary cut up time can be saved with fruits and vegetables. Very convenient when you get that sudden surge of customers all wanting apple juice at the same time!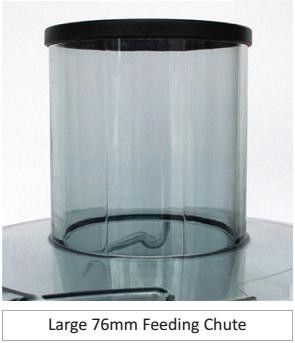 Removable Stainless Steel Blade And High Efficiency Micro-mesh Filter And Basket. This is a very important element of the Vita Juice Pro because the juice is strained through the filter, the yield and quality of the juice is maximised. Which means that you can provide your paying customers with a texturally smooth, nutrient rich juices without all the unwanted lumpy pieces of fiber. The disc and filter are easily removable so it's quick to disassemble and clean. Of course all parts are replaceable with Semak Australia.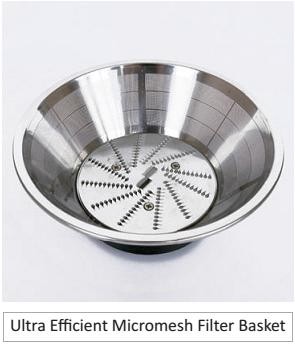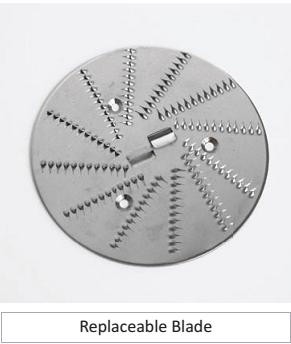 5 Speed Option for Maximum Yield. Because fruits and vegetables all differ in their denseness and water content it's important that a juicers rpm's can adapt accordingly for maximum juice extraction and pulp ejection. The 5 speed option is a user friendly feature that  allows maximum juice extraction with both hard and soft fruits/vegetables and reduces the amount of clean up mess. (Pretty clever eh!).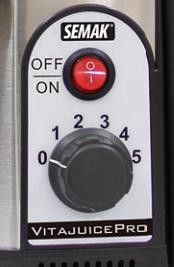 12 Month Commercial Warranty And The Backing Of Semak Australia. Which means you have the reassurance of Australian based after sales service, supported by easily available spare parts.

SPECIFICATIONS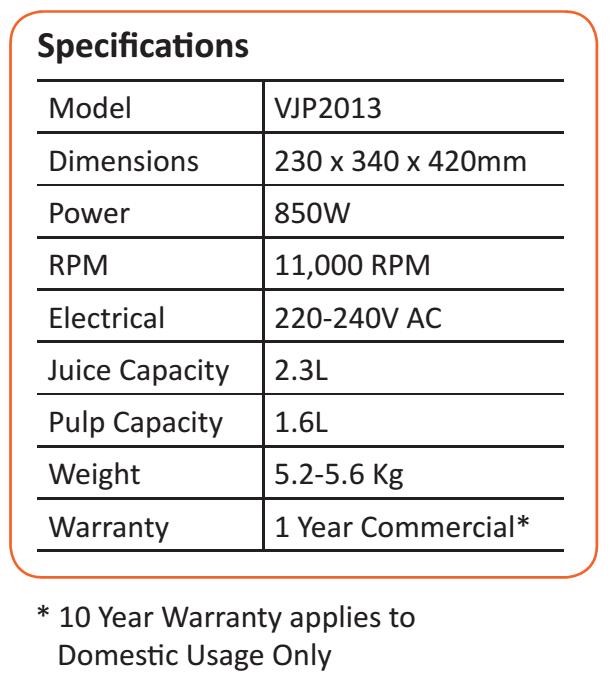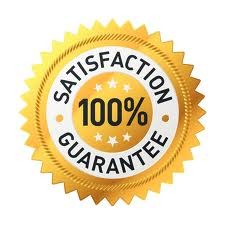 We're confident that all the products we sell are of a high quality and our mission is to give everyone who buys from us a positive experience. So we guarantee that you'll love you're new item and won't be disappointed.
Sale
Semak Vita Juice Cold Press Juicer

Feel Healthy, Look Healthy, Stay Healthy.  Enjoy A Quality Life With A High Quality Australian Designed Cold Press Juicer.
Isn't it the best feeling when your health and wellness are in optimal shape?
The new Semak Low-Speed Cold Press Juicer offers you the best way to fast-track and enhance your health and well being with the best quality juices.
Whether you're into body detoxing, or after the ultimate in slow cold press juicing technology then the Semak Vitajuicer is the best way to go because it creates the highest quality phytonutrient-rich juices. Meaning that you can fast track all your juicing goals; weight loss, cancer and type 2 diabetes prevention, increased physical endurance or enhanced overall well-being.
Why choose the Semak Cold Press Juicer over the others?
Did you know that many people who are in the market for a juicer end up with a high speed centrifugal juicer, not knowing that this type of centrifugal juicer is unable to provide the ultimate health and wellness and juice purity that a slow cold press juicing system offers?
Here's why:

Old style, high speed centrifugal juicers utilize a grinding and shredding motion along with high speed rotation to extract the juice from fruits and vegetables. The high speed rotation of stainless steel actually creates heat friction, causing premature oxidisation of fruits. Not only does high speed rotation matched with grinding and shredding destroy some of the goodness and nutrition in the fruits/vegetables via oxidisation, it also causes a juice separation layer, instead of a texturally consistent smooth juice.
The Semak cold press juicer utilizes a new patented BPA free double edged juicing screw which gently extracts fruit and vegetable pulp with a squeezing and pressing motion. This pulp is then masterfully strained through an ultem screen, which reduces the chance of the fibers prematurely oxidising. The result is a high yield, texturally rich, pulp free juice with an abundance of phytonutrients, enzymes and vitamins. That means that you're getting a healthier, 100% natural, superior quality juice every time!
FEATURES
Power With Silent Operation. The powerful reduction condensing induction motor is slowed to 47 RPM for gentle squeezing and optimum juice extraction without all the noise.  Which means you're getting the quietest cold press juicer on the market so your kitchen doesn't end up sounding like an in-house formula 1 racing track, every time you're making juice! I don't know how you feel, but I find that there's nothing more annoying than an obnoxiously noisy kitchen appliance that gets used regularly (especially when you have young children trying to sleep). You won't experience those problems with this juicer, unlike most of the other noisy ones on the market.
A High Yield Juice Extraction. The Semak cold press juicer provide's an average yield that is 2X as much as a traditional centrifugal high speed juicer. Which means that you consistently get a sweeter, richer, fuller bodied juice without all the wastage caused by old style centrifugal juicers.
Maximum Extraction of Vitamins and Minerals, which means your body gets a supercharged dose of all the phytonutrients for optimal health and well being. You will notice within a short space of time the positive changes to your physical and mental well being once your body is finally getting all the minerals, vitamins and nutrients that so many people miss out on with modern day lifestyles and poor eating habits. How would you feel having more 'get up and go' and peace of mind?
Patented Double Edged Ultem Screw And Screen Strainer Technology. Which means you get the benefit of a sturdy and robust, easy to use juicing system, which delivers the highest quality nutrient rich juices. Nothing beats a smooth, pulp free juice made from your favorite fruits or vegetables. All you have to do is add your favorite juicing foods and the juicer does the rest for you.
10 Year Warranty And The Backing Of A Well Established Australian Manufacturer. We deal directly with Semak, an Australian manufacturer with more than 50 years in the kitchen appliance business. Which means you have the peace of mind of  Australian based after sales service and parts availability. A common unseen problem that many unwary consumers run into with cheap Chinese made imported juicers is the lack of after sales service, parts availability and a very short warranty period. For example an important feature of Vita Juice juicer is the screws internal turning pivot is metal and sits on the motors revolving metal drive shaft bolt, so it's a built-to-last metal on metal turning hub. So remember, don't sell yourself short with an inferior quality plastic juicer that comes with a short warranty, treat yourself with a decent juicer that's built to last, with the reassurance of a 10 year warranty!

Bonus Sauce Maker Included
 SPECIFICATIONS
| | |
| --- | --- |
| DIMENSIONS | Length 18cm Width 17cm Height 25cm |
| VOLTAGE | 240V / 50 HZ |
| WATTAGE | 200W |
| MOTOR | Single Phase 10 amp |
| RPM | 47 |
| CERTIFICATION | CE, ISO9001 |
| WARRANTY | 10 Years |
Sale
Updating…