The Semak Vitashake  is a classy, retro-styled milkshake mixer that makes a perfect addition to any cafe, diner, school canteen, sporting club, or fast food outlet. Fitted with a powerful 350 Watt motor and  finished of in a sassy red or black powdercoat and polished aluminium, the Vitashake also comes supplied with a 900ml capacity stainless steel mixer cup.
Not only is the Vitashake modern and stylish, but it's also constructed from durable aluminium and stainless steel, reflecting Semak's manufacturing philosophy; "to build and manufacture quality equipment that is built to last, repairable and supported by spare parts."
Whether you're after a reliable, high grade commercial milkshake maker for a catering/dining enterprise or maybe just love to indulge your inner 'mad-scientist' shake making at home, the user friendly Semak Vitashake will be a big hit, because it produces a delicious, frothy and smooth milkshake everytime.
2 speed waterproof speed switch

. Which means that not only is the mixer very user friendly, but also very safe in kitchen and food preparation 'wet-areas.'
Non skid base with drip tray.

Which means the mixer provides extra stability and minimises the hassle of spill over clean up.
Stainless steel shaft and bonus 18/10 agitators.

Which means the Vitashake delivers reliable high quality performance, ensuring there's consistently smooth and fluffy milkshakes available on demand. People will be telling their friends and and coming back for more and more.
900ml capacity stainless steel cup and designed to suit a standard milkshake cup size. The 900ml steel cup allows the milkshake to be aerated and fluffed maximising the volume of any ingredients added to the beverage.

Which means you can add greater profit to you're business, less really is more with Vitashake milkshake maker!
Powerful 350 Watt motor with a lifetime warranty and a 2 year Commercial parts and labour warranty.

Which means you have the reassurance and support of Semak's Australian based after sales service and available spare parts.
SPECIFICATIONS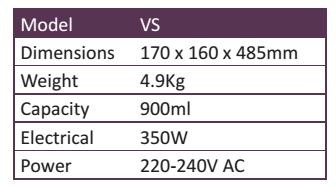 Updating...